As your tile specialists, our goal at Color Interiors Floor Center is to provide you with quality tile products that will beautify your home, meet your specific performance needs, fall in your price range, be easy to care for and stand the test of time. We serve customers throughout the Woodlands, TX region.
What are the different types of floor tile?
Ceramic tile is made from clay that has been molded and then heated under extreme pressure. There are two main types:
Porcelain floor tile is a ceramic material that contains up to 50% feldspar crystal, which, when heated under extreme pressure, becomes a glasslike material with incredible hardness & durability
Non-porcelain ceramic tile is the traditional variety made from any combination of minerals that include white, red and brown clay
Ceramic tile of either type can also come in glazed or unglazed varieties. Glaze is a glass-like surface coating that can be any color or pattern. This opens up a world of design possibilities, while adding extra stain, scratch and moisture resistance to the tile. You can even find wood look tile!
Stone tile is a category that encompasses many different natural stone materials, including marble tile. Because stone naturally varies in composition, each type of stone tile has different practical uses and different care & maintenance requirements.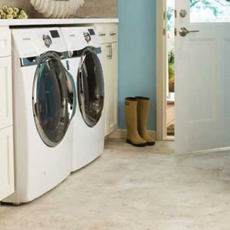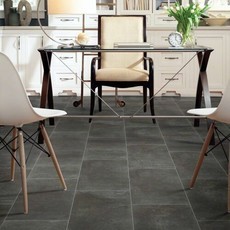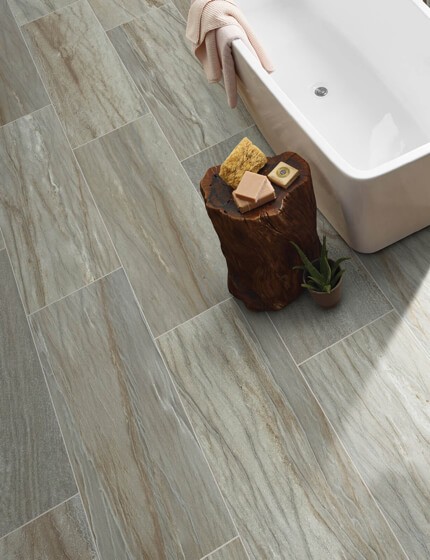 Which is better, porcelain or ceramic tile?
The answer to this question truly comes down to personal preference. Porcelain tile is the more durable of the two thanks to its increased density. On the other hand, you can save money on most ceramic tile styles when you compare them to their porcelain counterparts. Non-porcelain ceramic tiles are also a bit more versatile. Their less dense composition makes them much easier to cut, giving them an advantage during installation.
Create a decorative mosaic tile backsplash or a practical subway tile bathroom or shower wall.
Tile is commonly found in bathrooms where easy cleaning & water resistance are most useful.
Kitchens serve the dual role of workspace & gathering place. Tile's beauty & durability fit both needs!
Best rooms for tile flooring
Tiles offer a versatile design option that works well in many different rooms of the home. Tile is especially common in kitchens and bathrooms, both on floors and walls, as well as in outdoor spaces.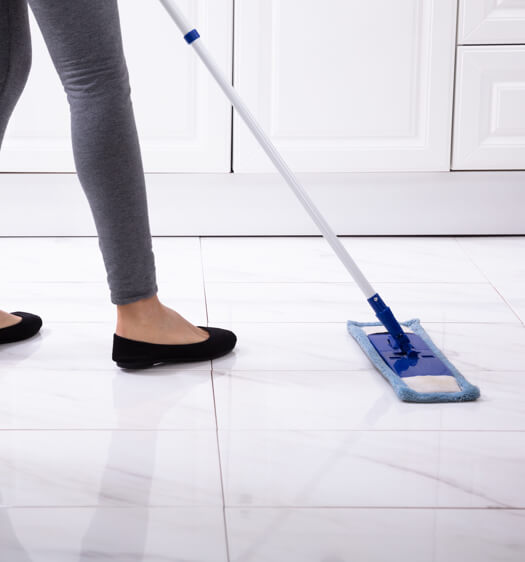 Tile care & maintenance
Like any material, tile is subject to natural wear and tear, and thus requires regular cleaning & maintenance to maintain its look. Luckily, tile floors are among the easiest surfaces to maintain, and with the right routine they'll look beautiful for years to come. A couple of minutes a day and a deeper clean once a week is all it takes to keep your tile in great shape.
We carry the best in tile flooring from the industry's most trusted names.