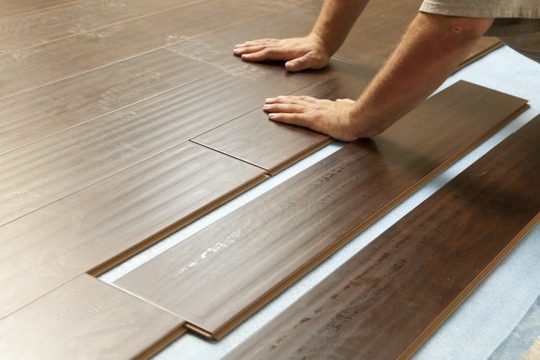 Preparation is Essential
By now, you've likely found the perfect new laminate flooring and made a purchase. Now, as you eagerly count down the days until your installation, we'd like to offer two words of advice: Be prepared! Our laminate flooring specialists are here to help you know what to expect and how to get involved in the process so that everything goes smoothly & efficiently. Proper preparation will help you minimize stress & enjoy your new floors to the fullest.
Before Installation Day
Remove Furniture.
Our crew will remove all furniture and other large objects from the installation area. We recommend securing any valuables ahead of time, emptying drawers, cabinets and closets to prevent potential damage to your belongings. This includes anything picture frames or décor hanging on the walls. Your crew may also advise you to set your heat or air conditioning to a certain setting in advance to help maintain a consistent temperature and humidity level while your new floors acclimate.
Decide What to Do with Your Old Floor Covering.
Prior to installation day, we'll determine together how your old floor covering will be removed & disposed of. This is typically the most time-consuming step in the process and will require careful planning.
Decide What to Do with Your Trim.
In many cases, moldings and baseboards need to be removed for laminate installation. We will do our best to avoid damage, but some painted baseboards, woodwork and paint may need to be retouched if you plan to replace them after the installation is complete.
Subflooring is Next.
We may need to clean & level your subfloor or even replace it before your laminate can be laid.
Doors Need Your Attention.
When new laminate flooring is installed, your existing closet, basement and bedroom doors may not clear the new height of your floors. If this occurs, we'll initially need to remove the doors to complete installation. You'll then have to determine if you'd prefer to shave or cut the doors down, which may require the work of an outside carpenter depending on the door.
On Installation Day
Be Prepared to Stay at Home.
An adult member of your household should be around at your scheduled installation time to greet your crew & show them to their work area. Your presence will ensure that the correct laminate product is installed in the correct areas, and that the team has a reliable source for answers to any questions they may have while doing work in your home.
Put Your Safety First.
Your installers will use a variety of tools & techniques that can make the work area hazardous. Please make sure that your children & pets are kept out of the work area on installation day.
The Walk-Through is Key.
We recommend that you walk through the job with the chief installer before your installation is complete. This will give you the opportunity to ask questions & be clear on the final details.
After Installation Day
Provide Good Ventilation.
If you are sensitive to dust & odors, good ventilation should be established for 48 to 72 hours after installation. This includes turning on fans and opening windows, if possible.
The Bottom Line.
Being prepared for installation day through careful planning and smart preparation will make your life and the installers' job a lot easier. It will also make your laminate flooring experience enjoyable right from day one. At Color Interiors, we're here to help you get the most out of your beautiful new laminate floor.