Vinyl floors, no matter how new or beautiful, are meant to be walked on!
Time & a slow onslaught of foot traffic will certainly take their toll on your floors, but it's not a hopeless case! With the proper cleaning routine and preventative maintenance, you can keep your luxury vinyl looking as beautiful and inviting as it was on the day it was installed. All you need is a little knowledge from the pros here at Color Interiors Floor Center.
The following guide was prepared by our vinyl specialists, chock full of tips to make it easier for you to clean & care for your stylish new vinyl flooring. You should also refer to the written guidelines provided by the manufacturer of your new floors.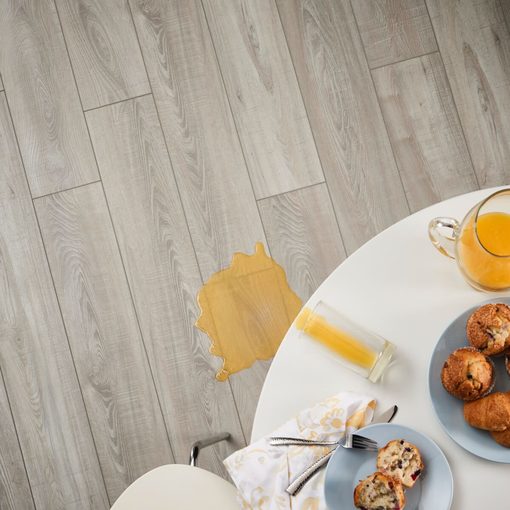 Consistency is key.
Your new vinyl floors are going to be extremely durable & long-lasting, but like any floors they'll still need regular maintenance to keep their good looks. Incorporate routine cleaning into your existing home cleaning routine and be ready to clean daily or weekly.
It's smart to spread your weight around.
Before you place heavy objects (like large furniture) on your vinyl floor, attach felt pads on all legs. You can also place mats or underlayment beneath to help disperse the weight more evenly across the surface. Otherwise, you may be left with dents from chair legs or scratches from movement. Talk to one of our team members for more information about safely moving furniture & appliances.
Get down and dirty with dirt!
You can easily & safely remove dust, sand & other gritty particles by sweeping or vacuuming frequently. If you choose to vacuum, don't use an appliance with a beater bar – these can cause scratching. You can, however, use your vacuum's other attachments to clean edges & hard-to-reach corners of your room.
When simple sweeping & vacuuming isn't working, you can mop. If you do, be sure to follow up with a dry mop or towel to remove any standing moisture. Even water-resistant vinyl is best left dry when possible. If you use any cleaning products, consult your manufacturer's guidelines to make sure you aren't using any harmful chemicals. Most floors can handle gentle detergents.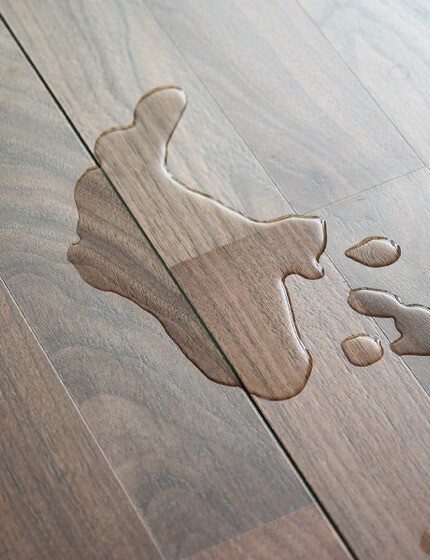 Prioritize prevention.
There are lots of ways to prevent damage to your floors. One of the best methods is to place non-staining mats or rugs at entryways to catch debris tracked in on the bottoms of shoes. Gritty particles can grind into your floors and cause microscopic damage that gets worse over time. NOTE: Rubber backing on mats can damage many types of flooring, including vinyl. Know what you're buying!
Spills happen. Use these tips.
Wipe up any spots or spills immediately with a clean cloth and a gentle cleaning solution recommended by your manufacturer. Rinse the spot thoroughly & wipe dry with another clean, dry cloth. Avoid using any abrasive scrubbing tools that might leave scratches, and never use abrasive or acidic cleaners, soaps or waxes on vinyl.
How to get that old sparkle back.
If your floors begin to dull over time, try mopping them to see if the cause is a film or residue. If that doesn't work, try a manufacturer-recommended floor polish product. Polish often provides the added benefit of protecting floors temporarily and making them easier to clean.